---
THE PLEASURE SEEKERS
"What a Way To Die"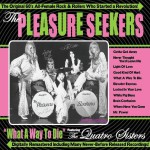 The Pleasure Seekers lived, played, partied, and rocked the music scene in the Renaissance era of the 60's, when female musicians were looked upon as "novelty acts". The Pleasure Seekers and the music they played gained the attention and respect of Detroit "male rockers", as well as the legends of the era. In just under five years, the Pleasure Seekers toured extensively throughout the U.S., Canada, and the Far East, as a headliner, as well as being support for acts like the Yardbirds, Eric Burdon and the Animals, Joe Cocker, Alice Cooper, Procol Harem, Badfinger, MC5, Bob Seger, Iggy Stooge, and many others.
The historic recordings (many previously unreleased by the Quatro sisters) capture the beginning of their rock-n-roll revolution. The Pleasure Seekers were a forerunner, changing the myth of female musicians. Rockin it raw, with edge and attitude, they took over the garage, and unleashed their "Detroit Rock City" music on an unsuspecting world, starting a revolution for women to rock their music hard. To this day, these multi talented sisters are known as the teenagers who dared to go where women had not gone before, against all odds, stomping their way into a male-dominated heavy rock scene.
Song
Hear
Free
Price
Buy
Buy the CD (physical media)
$16.99
Buy the whole album (download)
$9.99
$0.99
$0.99
$0.99
$0.99
$0.99
$0.99
$0.99
$0.99
$0.99
$0.99
$0.99
$0.99
---
CRADLE
"The History"
Smell the incense, the herb, the excitement…..
From their archives comes the previously unreleased original tunes of the Quatro sisters, the earliest heavy female rock musicians, rockin' their raw, driving energy on this historical "Cradle-the history" CD. Recorded LIVE from the infamous Grande Ballroom of Detroit Rock City, on New Year's Eve on a bill with the MC5, Cradle captures the mood and essence of this classic 70's era.
Evolving out of the roots Quatro sisters' first band (the Pleasure Seekers), Cradle morphed into a much harder direction, contributing relevant lyrics, creative harmonies, and heavy original music with attitude. They rocked this Renaissance era of sheer, raw, driving "grit" that burst out of Detroit, as it fused the Motown influence, colliding with the English invasion and Acid Rock. Cradle gained popularity quickly, well respected by their musician peers, and touring the country's pop festivals, concerts, and ballrooms on bills with Mountain, Peter Frampton, Alice Cooper, Joe Cocker, MC5, Iggy Stooge, Ted Nugent, and many legends of the day.
Though they were gaining momentum, Cradle's ride was sadly cut short with the hard struggle women had to find credibility with the record companies, finally breaking up in 1973, as Suzi went on to a solo career and international fame, and Patti joined forces with Fanny on the west coast.
Song
Hear
Free
Price
Buy
Buy the CD (physical media)
$16.99
Buy the whole album (download)
$9.99
$0.99
$0.99
$0.99
$0.99
$0.99
$0.99
$0.99
$0.99
$0.99
$0.99
$0.99
$0.99